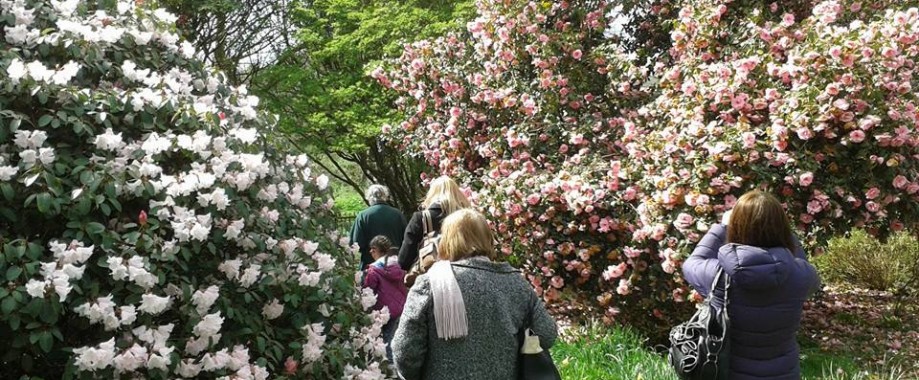 Our Marketing Coordinator joins the Tamar Valley's tourism community
This week, Tamar Valley Tourism Association (TAVATA) held an excursion to Buckland Abbey to see the developments of the grounds there. Since TAVATA work with so many of our community partners in the Tamar Valley, I was pleased to join them as a new member. The weather was on our side as we explored the sunny gardens and then had a whistle-stop tour of the house, rounding off the afternoon with a cream tea. Being Scottish born, I had not realised the contentious issue which surrounds cream teas in the South West and was intrigued to see the split between cream versus jam first divided along the river border between Devon and Cornwall. Thankfully, not being able to eat cream myself, I managed to stay neutral!
Speaking to those who own B&Bs, restaurants and who are involved in the tourism trade which surrounds the River Tamar, it was clear that there is a real sense of community in the valley. There had been concerns over the reporting of the storm damaged rail line at Dawlish which implied that the South West was now inaccessible. TAVATA became advocates of the #openforbusiness campaign which aimed to promote Devon and Cornwall tourism in the face of the negative media coverage. The rail line has now, of course, reopened thanks to the efforts of the "Orange Army".
The positive coverage surrounding the reopening of the rail line and the full programme of events happening across the South West, including our own It's All About the River film festival, will hopefully ensure a bumper year for tourism in Devon and Cornwall. Thanks to the efforts of our community partners and organisations like TAVATA, the Tamar Valley will share in this success.
For more photos of our trip to Buckland Abbey see our Facebook page.