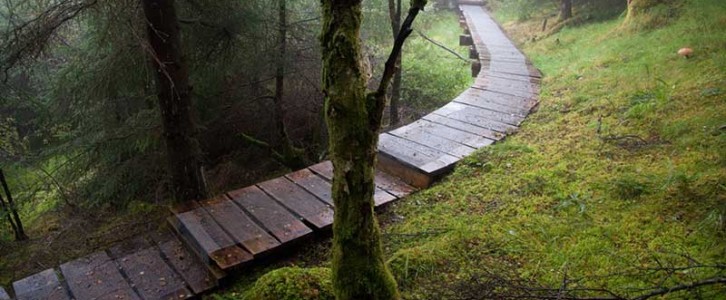 Picture this: you're walking through a misty Scottish forest...
Picture this: You're walking through a misty Scottish forest, trying to find that perfect viewing platform to get your Iphone out and Instagram a photo that will make your friends cry with envy. The ground is wet and, although beautiful, your vista is blocked by a thick covering of trees. You carry on, sure that you will find the perfect spot. Then, just round that final corner, your patience is rewarded…
This incredible construction is part of The Outlandia Project:
The Outlandia project was finally launched on September 19th 2010 as part of The Great Glen Artists Airshow, an event organised by The Arts Catalyst in partnership with HICA (Highland Institute of Contemporary Art) and London Fieldworks. London Fieldworks worked with Edinburgh based Malcolm Fraser Architects to design a multi-purpose platform for the use of local and invited artists in Glen Nevis. The original proposal was in response to an invitation from the Highland Council to create a lasting contemporary art legacy for the Year of Highland Culture. 
You can visit their blog to find out more. Also they have an amazing Photo Essay by Chris Short here.